Scharping reduces the noise of the CD-Drive, while listening to Audio-CDs by lowering its speed.

Even in the year 2016 Scharping is still used. Sadly version 1.1.0 is not compatible with the newest macOS version 10.12 Sierra. Because of this version 1.1.1 of Scharping was just released and can be downloaded by clicking the Scharping-Logo.

Version 1.1.1 offers full support for external drives. It can control multiple drives connected internally or externally to the system. It offers an icon in the Menubar, to give you full control over the speed of each individual drive. You can now quit Scharping if you don't need its service any longer.

System-Requirements for the new Version

•Apple Macintosh Computer with Intel Processor.


•macOS Versions from 10.6.6 up to 10.12 and higher

Scharping is a small Mac OS X program running in the background waiting for an Audio-CD to be inserted. As soon as this happens, a small dialog gets displayed requesting the desired speed of the drive. At the moment the playback of the CD begins Scharping instantly reduces the speed of the CD-Drive so that almost all of the drive's noise gets eliminated. The lower speed has no negative impact on sound quality. Far from it! Because of the noise reduction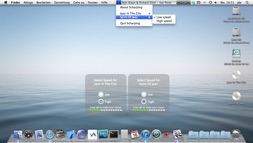 , quality gets increased and listening to CDs on your Mac is fun again.
Scharping is freeware and remains freeware!

Currently we are working on a "Pro" version of Scharping. Scharping Pro will be a secure Digital Audio Extraction (DAE) tool. Sometimes called secure ripper. Scharping Pro will read the data of an Audio-CD with the lowest speed possible to get an exact copy of the data stored on the CD. Scharping Pro is for Mac Users and HIFI enthusiast who care for quality and not for speed.

Compared to Scharping, Scharping Pro will not be offered as freeware. But by donating for Scharping, you can assure that the price will be decent. We appreciate your support very much. Currently we can not tell when Scharping Pro will be available. Sorry!

Users of Mac OS X 10.5 and/or PowerPC

Please follow this Link, to download version 1.0.0.

System-Requirements

•Apple Macintosh Computer with PowerPC (G4/G5) or Intel Processor.


•Mac OS X Version 10.5.0 or higher